On January 13, our school organized a BCOS Science Fair competition. Three schools attended this competition: Shanghai Nanyang Model Private High School, Jiaxing Senior High School, and Luwan Senior High School. At noon, we went down to the hall and prepared for the competition. We helped the teachers prepare the tables for the presentation boards. At half-past twelve, competitors from the other two schools joined. Four teams participated to represent NANMO, including William Chen & Kimi Xu; Brian Jiang & Ken Zheng; Yvonne Lei; and Jennifer Shen & Angela Zhang.
At one o'clock, the competition officially began. Teachers from the three schools were divided into three groups and took turns to listen to each contestant. After listening to our speech, the teachers asked us some questions related to our project. We were all nervous at the beginning because this was the first time since entering high school that we represented the school to compete with other schools. But after the introduction, we calmed down a lot and spoke more confidently and coherently.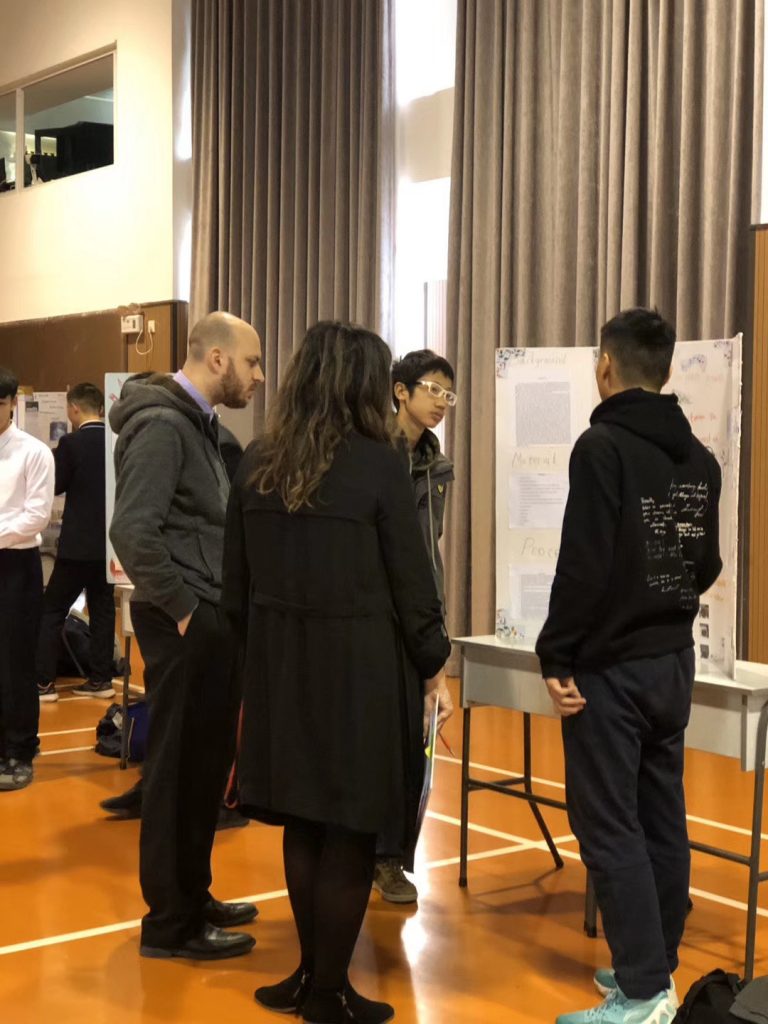 At about two o'clock, our NANMO classmates came to visit the venue. We also gave them a brief introduction. At three o'clock, we finished the competition and the teachers got together to give us a final evaluation. After a while, the result came out.
Finally, Brian Jiang and Ken Zheng won third place. We were all very happy about it and also super proud of them. The first and second places went to students from Jiaxing and Luwan respectively. Congratulations to all the participants! This was a good learning experience for us, which helped us practice our public speaking skills and be more confident when presenting our projects.
By Jennifer Shen 10C